Despite graduating with a WRITING degree, my writing style on this style has been very conversational, at-ease, sporadic, and slightly [in]sane.
But I think that's because I have no qualms with just being myself. Because through my pursuit of career/life happiness within entrepreneurial drive, I've decided that life is too short to be anything but yourself.
But life is never too short, or too long, or too fast not to remember to give your thanks. And if it weren't for the support of my friends – especially my friends with media power behind them – I may have caved and started searching for a full-time gig again. And in all honesty, I think about doing just that everyday.
But with a little ego-boosting affirmation that my platform of ME is having a positive influence on YOU, I can carry on without wavering too far off the path I've chosen for myself at almost 24 and two years out of college.
This list is not complete. I can't forget my friends over at Technically Philly, She's the First, Brotherhood Productions, Kim Last Designs, The Happy Hill Vintage, & Might Like You Better.
These "Thursday Thanks" could become a regular occurrence. Because honestly, I wouldn't be where I am without anyone. You are only as strong as the people who give you strength.
Enough of the wax poetic. Let's get real here. Thank you very freakin' much.
Some specific shout-outs:
Met this gorgeous chica while interning at Life & Style Magazine in 2006. She's come so far – I know she works her ass off, too, and when she finds time she adds in some booty-shaking work for me, too.
You thought they were two dudes … nope. They're two gals. Kick-ass ones. Their side hustle [and it's resulting success/humor to all hipster lovers/haters] is an inspiration.
They don't front [hence coming out about being behind the blog] and most important, they won't ditch you at the bar, the dance floor, or on the side of the road.
End of stories, they're two ladies I know and trust. And they're a helluva a good time and have a helluva good blog. Check it out.
We met when I spoke at a Temple University [my alma mater] journalism class as a happily employed, slightly egotistical assistant editor. She reached out via email. I reached back. She put me on her mass email list when she traveled the Middle East and played in Hawaii, keeping a blog of her travels. I was slightly jealous.
I reached out to connect over a Philly trip. My car was broken into. It wasn't meant to be. But we still connected – a week later – over drinks in NYC. I emailed her about my "idea for a road trip."
It grew. We bonded. We fell in love with the idea and our creative collaboration.
Can't wait to see how our meeting of the minds – and our mutually strong sense of self and strength in seeking challenge – will take us.
We met over sangria & chips on one fateful summer night in '07. She's spent the past year and a half traveling the world, writing, and waxing lots of poetic. Oh, and she wrote about me for the Sundance Full Frontal Fashion channel.
Thanks! And welcome to New York on January 4th!
Erin and I pretty much fell in love. In a completely, 120% platonic way, but I'll still sleep in the same bed as you and rub your back.
We founded AWKWARD is Awesome together.
I moved to NYC in June 2008. She moved out of NYC in June 2008.
She moved back recently. Now, she's en route to San Jose, California, for a new life and a new start [back] on the west coast.
But in between, she was my best. She was the one I could call and just … be me. And be a little crazy. And cry, and laugh — all the same time.
And when I apologized for the lunacy, Erin would just say, "No, Sam. I like it when you're this way."
You know you have a best friend for life when she prefers you at your worst.
Love you, Erin E.
I met June when I did my first pop-up vintage sale last June, Dirty Pretty Things. I fell in love with her style, and the fact that a hipster girl could like a corporate girl like me. We've collaborated and supported one another on our respective journeys, and I'm so thankful for her in my life.
Oh, and she's also a DJ. She's certified in yoga instruction. And she loves Marilyn Monroe.
What else could a girl ask for in a vintage biz confidant?
A fellow perma-lancer at Hearst, Katrina and I randomly met at an ED2010 event.
She gave me my FIRST bit of web press on The Examiner.
She was the positive push I needed in my final weeks of full-time work. I thank her for the ego-boost — I may not have been able to do it without her request to interview me.
That's when I knew I had something to offer — and wasn't going to stop there.
I remember when I first met Pam. We were both selling at Artists & Fleas in Williamsburg [she was helping a friend] and in her friendly manner, we got to chatting. She handed me a postcard about this "online vintage marketplace" she founded. I took a look at the site when I got home. I realized Pam wasn't just another friendly vintage girl.
And in this picture above, she's wearing a SDV fav — a sequin blazer from the collection!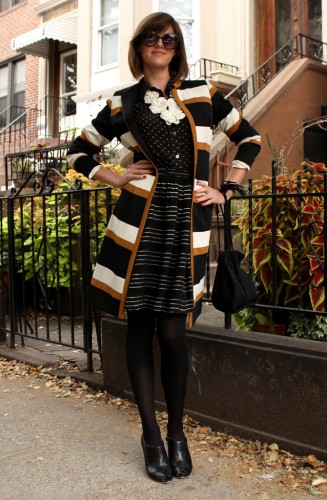 A few weeks after realizing that YES, I was going to start selling vintage clothes, I reached out to Jessica of What I Wore thanks to the email introduction of Suzanne Xie at Weardrobe. Just being with Jessica makes you feel centered & grounded, and that the world is a better [not to mention stylish] place.
I simply love looking at pictures of Jessica. She doesn't create envy or jealously — just warm affection and inspiration.
It's one of the most competitive flea markets in the country. And I sold at it. I'm grateful for the chance and for the confidence.
Founder Eric Demby continues to wow my pants off … the new "Gifted" market in Manhattan for the holidays, and a new venue for the winter Dumbo market coming up soon.
If you haven't been to Brooklyn Flea before, and you live in NY, well psh. I'll take you there myself.
StyleCaster is a new site with a fresh concept using understandable, relatable ideas: How to create social community and service around personal style and trends.
Assistant editors and digital style gurus Rachel Adler and Haley Mufson [who hails from Philly!] gave little itty bitty me a chance to be a stylist for the site, using the latest pieces of the season combined with my classic favs from the SDV collection.
From calming my many manic moments of crying, withstanding my many late nights preparing for sales only to be awoken a few hours later with my early morning flea market ritual [aka 7AM on a Saturday & Sunday], Jesse has been the pillar of strength that I've turned to time and time again. And he's never once asked for reciprocation, because he is a selfless giver.
Not only has he contributed to my site, but he's kept my sanity stable here in our lovely abode on 117th & Lexington.
And he lets me steal his milk & cereal when I run out of soy milk and oatmeal, too. ;-)
She's the strongest woman in my life — and that's all I truly need to say to give her the credit she deserves for bringing me up RIGHT.
"It's all about the balance," he is always telling me. My father reminds me why life is beautiful when all you can do is stand still and let it just happen.
He continues to be leaps and bounds ahead of me, not only in his hobbies [tattoos, road trips, music] but in his understanding of self.
"The path to Nirvana is not an easy one," he once told me. "The Buddha had to fast for 40 days to reach it."
Oh, George. Where do you get your wisdom from?
If it weren't for my friends back in Philly, who support me whenever they can and keep my confidence up even when New York puts it down and then throws it back in my face [love you, New York, but I also hate you at times] … I don't know where I'd be, what I'd be doing, and what city I'd look forward to visiting the most.
And of course, I don't think I could get by without any of the above. God bless the C's that keep me going, and going, and going some more …
THANK YOU TO ALL!
xx, SD